Investigate, Play, Learn: Wise Wonders Summer Camps 2021!
3/24/2021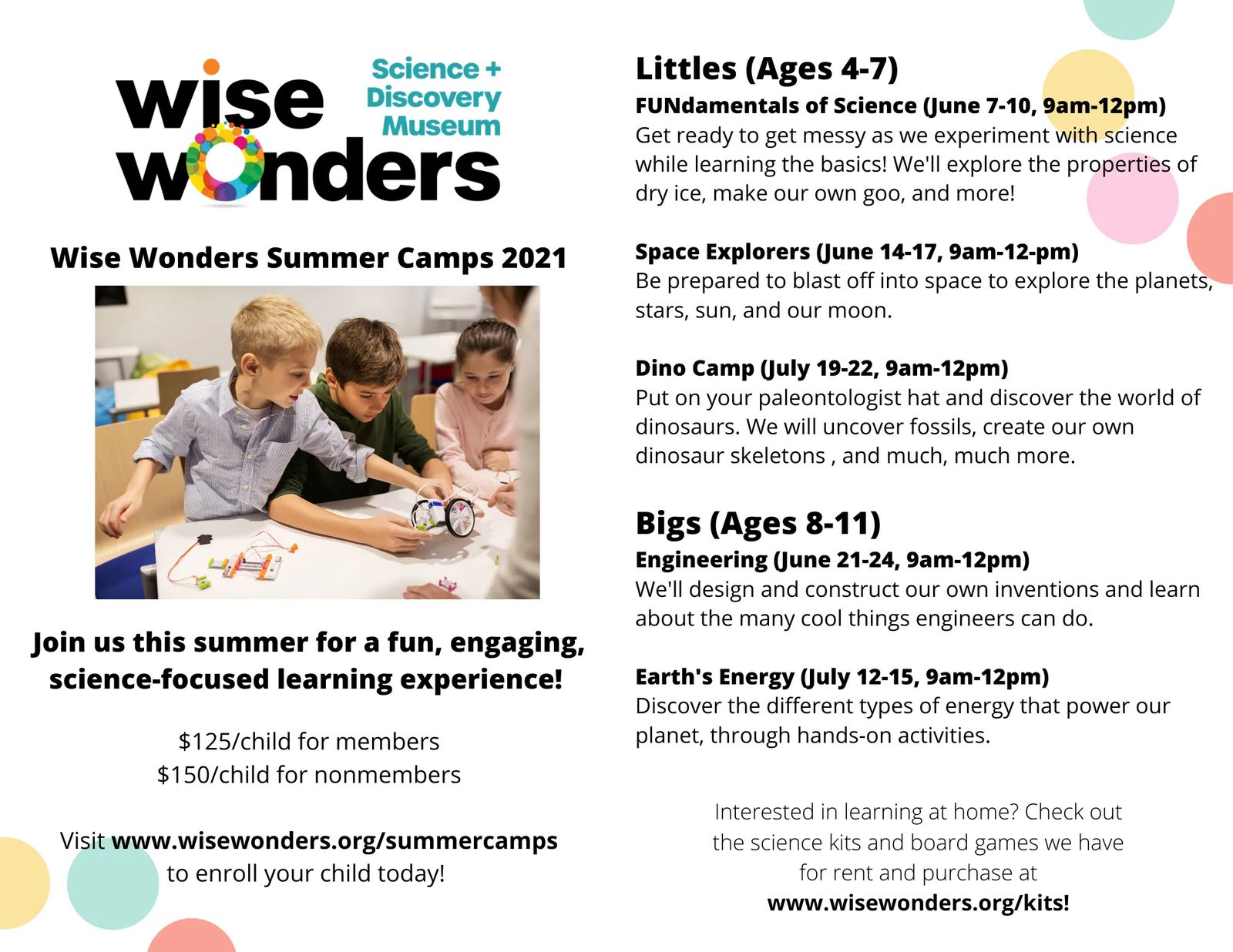 Come explore science with us!
We explore the many topics of scientific inquiry with fun and interactive activities each week. Camps run in four-day long sessions, Monday through Thursday 9am-12pm, each with a new theme. We offer fifteen spots per camp, divided by age (Littles: 4-7, Bigs: 8-11) that are available on a first come first serve basis. Members should contact Francie Fink (ffink@wisewonders.org) for a membership discount code prior to completing their payment.
A spot will not be reserved for your child until payment is complete. Once you have submit payment and enrolled your child(ren), a Google Form will be sent to your email. Completion of this form is essential, so that we may know your child's name, age, and special accommodations they may require.
COVID-19 and Summer Camps:
We are constantly monitoring the state of COVID-19 in our community. We will ask participants ages 5+ to wear a mask during the day at camp. Snacks will be individually packaged. Please bring your own water bottle!
Pricing
Members pricing: $125/child per four-day session
General admission: $150/child per four-day session*
*A limited number of scholarships available for those who qualify. Contact us for more information.
Cancellation Policy
Cancellations made prior to two weeks before the start date of the camp your child is enrolled in will be reimbursed. Any last minute cancellation (less than 2 weeks prior to camp) will not be refunded. If, however, you must cancel your enrollment, please contact ffink@wisewonders.org.
More Information
Interested in learning more about our summer programming? Email ffink@wisewonders.org with any questions you may have! If you are interested in learning resources from Wise Wonders but aren't interested in group education, we have developed take home science kits and science-focused board games--follow this link to see our selection!